Rio Costilla Park ~ 80,000+ Acres of Pristine Wilderness located in Northern Taos County, New Mexico.  Lush forests offer Spring & Summer Recreation May 15th through Labor Day Weekend and is a Hunter's Paradise throughout the year (due to Covid-19 & weather restrictions, no fires or restrooms).
Camping, Fishing, Hiking, Bike Riding, and just plain Relaxing are among the activities to be enjoyed during warmer months of the year in Rio Costilla Park and casino Jet. May to September is ideal for experiencing Rio Costilla Park in it's splendor. Temperatures are mild, wild flowers are in bloom and wildlife is most active. Deer and Elk inhabit Rio Costilla Park in vast numbers. Visitors may see smaller game such as: Turkey, Ruffed Grouse or Golden Eagles. One may be fortunate enough to see Bear or Cougar and Rocky Mountain Big Horn Sheep frolicking in the sunlight.
ELEVATIONS (approximate):  Costilla, NM = 7,827     Amalia = 8,100     3rd Latir lake = 11,130  9th Latir Lake = 11,893
> Download the Rio Costilla Park Brochure
The Rio Costilla Park is owned and operated by the Rio Costilla Cooperative Livestock Association – RCCLA – and is nestled within the Northern Taos County communities of Costilla & Amalia, New Mexico.
RCCLA Members > Click here for Members Only content.
---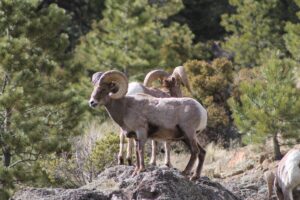 2021 Rocky Mountain Bighorn Sheep Hunt Tag Available!  
Contact RCCLA Office at 505-927-1415
if interested in bidding on this
Once In A Lifetime Opportunity